Some good things at Heli-Expo, but no elephant in the room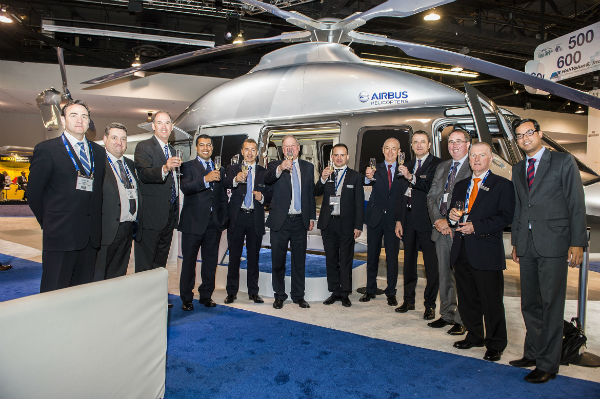 The Heli-Expo annual helicopter convention in Anaheim drew over 19,000 attendees and 700 exhibitors, anchored by such helicopter stalwarts Sikorsky (UTC), Bell Helicopter (Textron), Airbus Helicopters (formerly Eurocopter, an EADS company), AgustaWestland and others.  While there were several encouraging aspects of the show such as strength in the lucrative offshore oil and gas segment, market research consultant Brian Foley weighs other factors from a risk perspective.
Heli-Expo highlights primarily the civil aviation sector. But the military-driven segment of the industry – typically 'the elephant in the room', accounting for more than 75% of industry dollars – was under-represented. And the military side affects the civil market in important ways.
When military sales sneeze, the whole industry catches cold. The US Army, which is the world's largest user of rotorcraft, is facing budget cuts.  New-aircraft funding will be limited and, as troop levels fall to potentially pre-WW2 numbers, there won't be enough staff to fly and maintain existing equipment.  The latest US defense budget proposal calls for all 368 of the Army's Bell Kiowa Warriors to be mothballed.  Fewer helicopters and fewer hours threaten not just sales but aftermarket revenues,. So it's a double-whammy on the industry.
Even in the purely civil segment, used-rotorcraft inventory is up by 11.6% since last year's Heli-Expo, while average asking prices are down by 2% (according to aircraft database provider AMSTAT). Used equipment has been listed on the market an average of 35 days longer, a 7% increase. None of these trends are conducive to new sales.
As to bright spots, a US Air Force contract is to be awarded in June and several leasing companies announced mega-orders. But leasing sales tend to be less "sticky" than individual orders, and typically allow deliveries to be deferred if the demand isn't there. On-site press reports were generally tepid, pointing to at least one manufacturer's announced layoffs and a general sales decline, while another cut production of a popular model by 25 percent. As if that weren't enough, weakening international currencies make exports relatively more expensive, slowing sales in non-North American markets.
A recurring quandary in the industry is that the buyer pool is known and finite, with OEMs competing for the same business year after year.  The industry must find new markets, and that means non-traditional. A few years ago manufacturers tapped the super-midsize market with products in the $20 million range.  Now the race has turned down-market into the light single-engine entry level gap, albeit at the less exciting $1 million price point. Emerging markets such as China are also being nurtured as additive business, as are unpiloted vertical lift machines for the military.
While the mood at Heli-Expo was generally upbeat and festive, one needs to keep in context that the helicopter market is very faceted.  While a healthy civil sector represented by Heli-Expo is an important element of a thriving helicopter industry, it may not be robust enough to offset the impending military crunch.
 [divider]

About Brian Foley Associates (BRiFO)
Since 2006 BRiFO has provided investors and aerospace companies with aviation advisory services including industry analysis, market research, diligence, consultations and other high-level  support. www.BRiFO.com
Subscribe to our free newsletter
For more opinions from Helicopter Investor, subscribe to our email newsletter.