Oklahoma City Police takes delivery of two AS350 B3e helicopters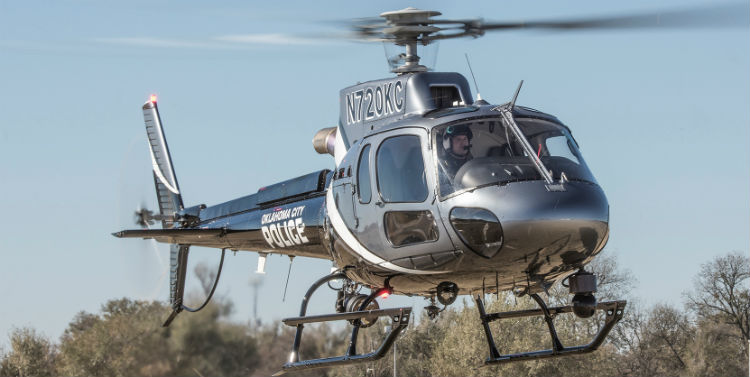 The Oklahoma City Police department has taken delivery of two Airbus Helicopters AS350 B3e AStar helicopters. The new helicopters include the latest safety features and firefighting equipment.
The new helicopters were displayed at an event in Oklahoma City, along with an AS350 B3e recently delivered to the Oklahoma Highway Patrol and a recently delivered AS350B2 from the Tulsa Police Department. Oklahoma City ordered the two AS350B3e helicopters in 2013 to replace its current fleet of patrol helicopters.
ALSO READ: California Highway Patrol orders 15 AStars

Ed Van Winkle, sales manager for airborne law enforcement for Airbus Helicopters Inc, says: "Across the State of Oklahoma, law enforcement agencies have chosen the Airbus Helicopters AStar to upgrade from aging and less capable aircraft. The multi-mission capability of the AS350-series helicopters, combined with additional safety features and low operating costs, make them the right choice for law enforcement agencies to upgrade their helicopter fleets."
William Citty, Oklahoma City Police chief says: "The Oklahoma City Police Department has upgraded our ability to provide better public safety coverage for a city that spans 621 square miles with the addition of these helicopters. The successful process of transitioning to a helicopter that allows for greater functionality, safety and reduced pilot fatigue is a testimony to Airbus Helicopters and their product. And our pilots … let's say they are not unhappy."
The Oklahoma Highway Patrol put its AS350 B3e into service in May and the Tulsa Police Department put its AS350B2 into service in August.
The Oklahoma City Police helicopters are also able to assist in firefighting as they can be fitted with "bambi buckets" that can collect water.
Other law enforcement agencies have recently purchased AS350 B3e AStars include the California Highway Patrol, Mississippi Department of Public Safety, and the Texas Parks and Wildlife Department.