Sikorsky S-92 helicopter gets electric blue makeover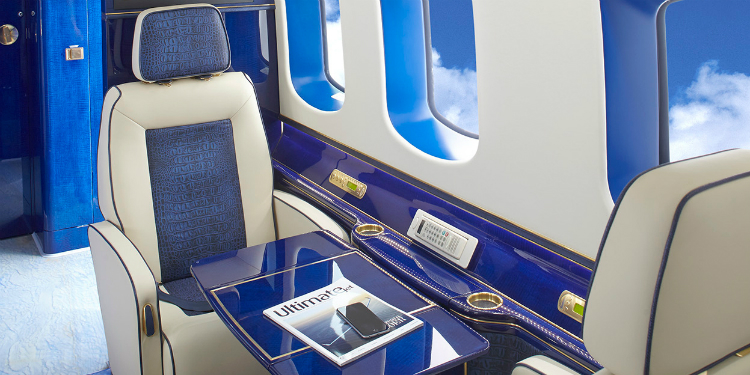 Flying Colours, an aircraft completions, refurbishment and maintenance company, has completed an elaborate four-month refurbishment project for its first ever Sikorsky S-92 helicopter at its headquarters in Peterborough, Canada.
The company fitted the nine-passenger VIP variant of the S-92 helicopter with a striking electric blue interior. Some of the more idiosyncratic features include all-leather seating, blue and white sidewalls that incorporate stingray patterns and crocodile-leather and a plush blue carpet with a white silk pattern.
"We even had to order additional leather so the patterns aligned precisely on each seat and sidewall," said Sean Gillespie, VP of Flying Colours.
Article continues after photo gallery…

The S-92 is the first helicopter to include granite flooring finish in the lavatory and helicopter entrance.
One challenge for Flying Colours involved conforming the new upholstered seats to meet Part 29 rotorcraft requirements, while determining what design limitations were set by the original seat manufacturer.
"This was a real challenge as we had to work within those limitations, but create a stunning design that captured the customer's vision," said Gillespie. "We worked diligently with the original seat to ensure that the new seat covers met all certification requirements."
Having successfully delivered the helicopter to an undisclosed customer in January, Flying Colours plans to further develop its helicopter interiors business.
"We are extremely pleased to have refurbished our first S-92 and, along with the client, are very happy with the end result," added Gillespie.
"We have always been interested in pursuing the helicopter market and with the combination of our experienced work force and hangar capacity at both facilities; we are well positioned to grow that side of our business in the future."
Flying Colours is better known for its private jet refurbishments, having fitted a Bombardier Challenger 850 with a brand new carbon fibre interior and delivering an outfitted Challenger 604 to a Nigeria customer in the past year.