Airbus, Vector and Rockwell Collins sign cockpit upgrade agreement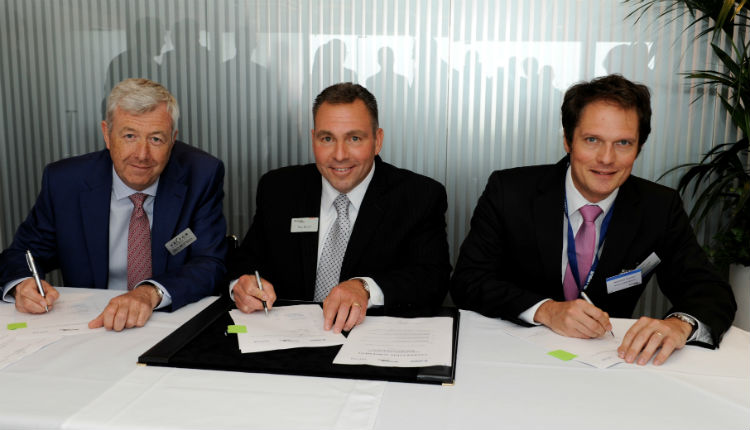 Airbus Helicopters, Vector Aerospace and Rockwell Collins have signed a cockpit upgrade agreement at the Paris Air Show.
The agreement concerns the fitting and the development of Rockwell Collins Pro Line Fusion cockpit in Airbus Helicopters. The first helicopter to be fitted with the new Fusion cockpit will be an AS332 Mk 1 rotorcraft and the upgrade of both AS332s and its military counterpart, the AS532. The first aircraft is slated to be completed in 2016.
Troy Brunk, vice president and general manager of Airborne Solutions for Rockwell Collins said: "Pro Line Fusion provides Airbus Helicopters with one of the most advanced avionics and the highest level of efficiency for the rotary wing cockpit. The enhanced situational awareness features provided by Pro Line Fusion will result in reduced pilot workload and greatly increase flight safety for operators of Airbus Helicopters platforms."
Matthieu Louvot , senior vice president, Customer Services for Airbus Helicopters said: "In our constant search for customer satisfaction, we have identified the need to offer modern but affordable glass cockpit retrofit solutions to our customers to allow them to extend the operational life of their helicopters. Entering in this cooperative agreement with Vector Aerospace and Rockwell Collins to develop a state-of-the-art upgrade solution for the existing fleet of AS332 / 532 MK1 using Pro Line Fusion will allow us to answer this need in a competitive way."
Declan O'Shea, president and CEO of Vector Aerospace Corporation said: "We are thrilled to be part of this program. Vector Aerospace, a world leader in aircraft retrofit and modernization, will bring the reactivity and flexibility needed to develop affordable upgrades. We are confident that this cooperative program will be a great success to the benefit of our customers."