Faradair announces hybrid electric commercial flight capability from 2025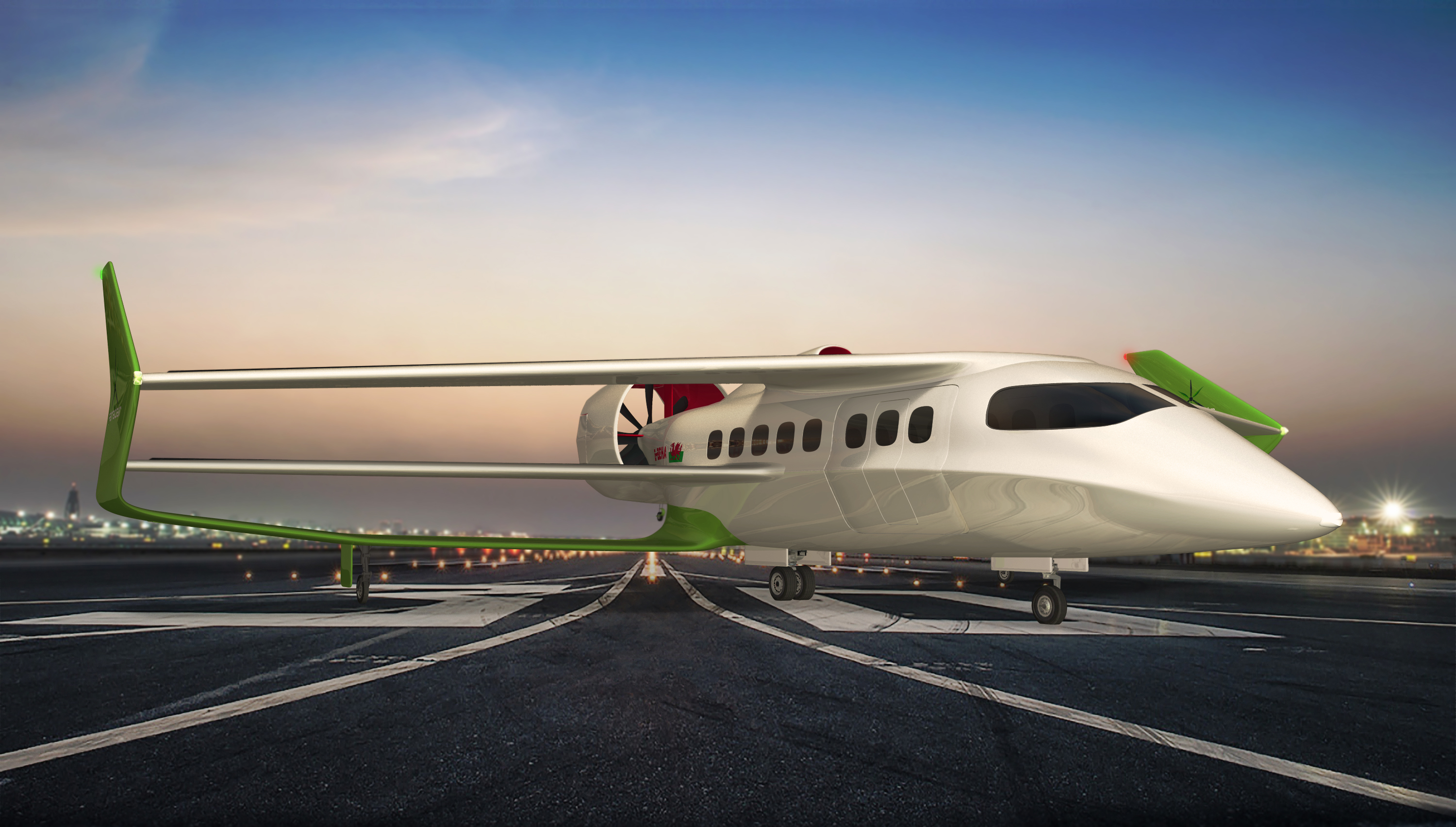 At Revolution.Aero Europe 2019, in London, the British aerospace start-up Faradair has revealed its intention to certify its 18-seat, hybrid electric 'BEHA' aircraft (Bio Electric Hybrid Aircraft) by 2025, for passenger operations.
Designated the BEHA_M1H, this hybrid-powered aircraft utilises a design patented 'Triple Box-wing' high-lift configuration, delivering Short Take-Off and Landing (STOL) capability, which will require less than 300 meters of runway. With twin contra-rotating 'propfans' within a vectored thrust, acoustic reduction duct that improves efficiency and reduces noise to a target of just 60dba at take-off.
After four years of development, both simulated and scale model testing, the design has evolved into a utilitarian configuration, capable of carrying 18 passengers or three LD3 cargo containers, with an internal payload capability of five tonnes. The aircraft will be able to change configuration in 15 minutes from cargo to passenger and vice versa, and the company is already in discussion with potential civilian and non-civilian customers for this. London to Manchester could be flown in just 42 minutes at a cruise speed of 230mph (HS2 would take 1hour and 8 minutes by comparison).
As one of the earliest hybrid electric aerospace start-ups, UK-based Faradair has had to survive on angel investment funding and partner input in order to develop its new aircraft design. The UK aerospace innovation funding environment is geared toward the major Tier1 aerospace primes, with just 4% of Government aerospace innovation funding going to SME's in recent years. Whilst there is a boom of interest in Urban Air Mobility and E-VTOL aircraft globally, there is very little UK-based VC or Private Equity interest in young aerospace programmes, despite the significant revenue opportunities.
Unlike many E-VTOL projects currently proposed, the Faradair BEHA is a traditional aircraft, certifiable to existing Part23 standards, able to operate from existing airfields but more importantly, able to operate from runways of 300m or less of any surface and be able to integrate within existing air networks. Its hybrid propulsion system combing electric motors with a Turboprop engine will result in lower operating costs, lower emissions and increased safety redundancy. The aircraft will use existing battery technology for emergency power and ground operations.
Last year, Faradair secured the support of the All Party Parliamentary Group for General Aviation with 172 MP members lead by Grant Shapps MP, and the support of the Chairman of the Defence Committee Dr Julian Lewis MP. Lewis said: "We should not undervalue the ability of smaller companies, like this one, to rapidly innovate new products and this project strikes me as hugely flexible and adaptable for a wide range of tasks." He added, "I would certainly encourage colleagues within Government and the public sector, along with suitable industry partners, to support Faradair in its quest to deliver the first flying prototypes of this highly versatile system."
Grant Shapps, MP, said, "The company vision for a British-built aircraft that is able to deliver a range of roles, both in civilian and non-civilian configuration is fascinating. The prospect of hybrid-electric flight and the ability for people throughout the UK and around the world to fly regionally as simply as taking a bus, is a future that opens up so much regional growth benefit opportunity."
Follow minute-to-minute updates in our live blog here.