Bond backs young rugby stars with fly-in helicopter visit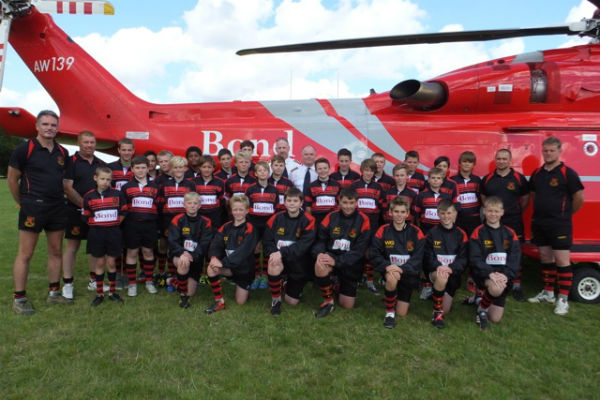 Bond Offshore Helicopters dropped by Wymondham Rugby Club to celebrate the start of the new season with under-13 team.
An AgustaWestland AW139 operated by Bond Offshore Helicopters landed at Wymondham Rugby Club's ground to celebrate the team's recent success and to wish them luck for the coming season.
Both Bond and the Warriors, as they're known, are based near Norwich in the UK and the coming season will see Bond appear as the team's new sponsor.
Warriors' lead coach Paul Wootton said: "It's a fantastic link-up for us and we never dreamt they'd be able to drop in on us like this – it's been great fun for everyone at the club."
Wootton added: "We've had a family fun day today and the only problem was making sure none of the tents blew away! Bond has been fantastic – they've sponsored new kit for the team and today's visit has created a real buzz of excitement."
The Warriors have been unbeaten over the past two years and are the first team to win back-to-back titles in the Leicester Tigers' Land Rover Cup for young squads across East Anglia and the East Midlands.
Captain Ceri Schunmann, managing pilot at Bond Offshore Helicopters, said: "Bond is pleased to support a community team such as the Wymondham Warriors, local to our base in Norwich. We are proud to be associated with the team and hope their recent run of success continues over the coming season."
The helicopter visit came at the end of Wymondham RFC's three day festival weekend which saw hundreds of people enjoy a beer festival, rugby matches and a family fun day. Profits are being shared with the East Anglian Air Ambulance and Star Throwers, a local cancer support charity.