Avincis Group orders three AgustaWestland helicopters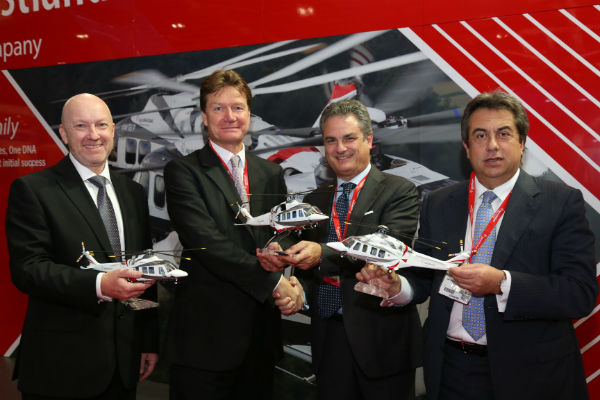 Avincis signed contracts for AW139, AW189 and AW169 helicopters with AgustaWestland in London.
The Avincis Group signed contracts for one AgustaWestland AW139 and two AW189 helicopters at Helitech International 2013 in London this week. Additional contracts for two AW169 helicopters out of a total of five preliminary agreements for the same type were also signed.
The aircraft will be operated by subsidiaries of the Avincis Group for various applications. In particular, Bond Aviation will operate the two AW189s for offshore transport missions in UK in the North Sea, while the AW139 and the two AW169s will be used for emergency medical operations in Sicily (Italy).
These contracts are part of a framework agreement with Avincis Group which could see the purchase of a total of 16 helicopters comprising all three models from the family of new generation helicopters.
Emilio Dalmasso, senior vice president Commercial Business Unit, AgustaWestland said: 'This latest contract as well as the framework agreement signed by Avincis Group further strengthens our long established partnership with this major customer. These new achievements are also another testament to the success of the AgustaWestland's Family of new generation helicopters and the unparalleled benefits it generates for large fleet operators covering a wide spectrum of applications. We are proud to have such a leading player in helicopter operations as one of our major customers who will take advantage from the Family concept'.
Martin Whittaker, Avincis Group director of fleet and engineering, said: "We are delighted to have secured a framework agreement with for up to 16 new helicopters for our global fleet. Every day lives and livelihoods depend on the missions we fly, and AgustaWestland is an important partner in our future growth."