Air Methods posts increased revenue results to $270 million in first quarter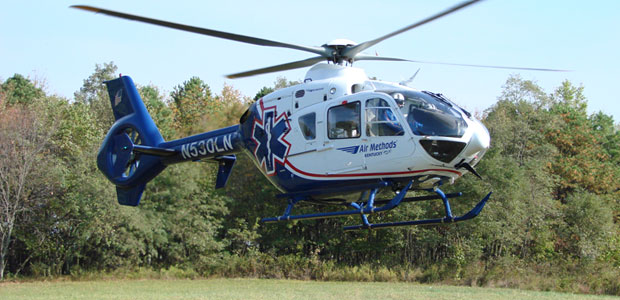 Air Methods Corporation providers of medical helicopters has announced its financial and operating results for the first quarter ended March 31, 2016. The company said it anticipates revenues for the first quarter of 2016 will be approximately $270 million up $32 million on revenues of $238 million for the same period last year.
Net income from continuing operations is expected to be approximately $0.51 to $0.53 per diluted share for the first quarter of 2016 compared to net income from continuing operations of $0.32 per diluted share the previous year.
Total patient transports by community bases increased 22.6% to 16,980 from 13,852 in the first quarter of 2015.
Preliminary net revenue per transport declined 0.2% to $11,623 as compared with $11,651 in the same period the previous year.
Excluding the impact of Tri-State care flight (TSCF), preliminary net revenue per transport declined 1.3% to $11,505. Net revenue per transport excluding the impact of TSCF did not increase with gross price increases due to a decrease in privately insured patients as a percentage of transports and a decrease in collections as a percentage of gross charges from private insurers.
Aaron Todd, chief executive of Air Methods, said: "The company's strategic initiatives paid dividends in the first quarter of 2016 with earnings per share expected to grow approximately 60% year-on-year. We remain focused on executing on these strategies to further enhance shareholder value going forward."