Protective Packaging Corporation: Steve Hanna interview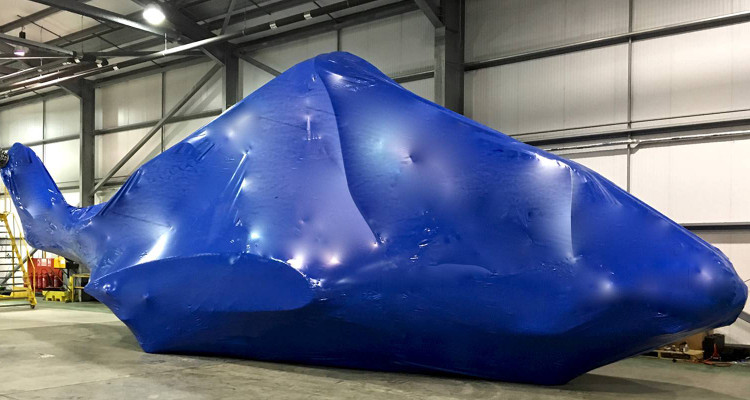 Protective Packaging has been a unique success story in the market. It runs a niche business over a vast number of markets to protect assets and equipment when they are in storage.
Packaging everything from computer components to F45 jets, it decided to expand into wrapping helicopters and at what happened to be the most ideal time. Its CEO, Steve Hanna, decided to make the move during the height of the oil and gas downturn and right around the grounding of the H225.
This was a win-win situation for both the market and the company. Owners wanted to protect their assets as they sat on the ground, and Protective Packaging suddenly had the demand across the industry for its packaging product.
With the initial boom of business dying down, Protective Packaging is predicting that more helicopters will be bought out of storage, unwrapped and flown, including the H225.
This does not mean its job is done, though. Hanna is also noticing more and more customers wanting to wrap their aircraft for transport and there are always helicopters on the ground.
How is business?
Business is very good. We had a banner year this year, the highest sales and profits we had since we opened our doors.
Are people thankful you came into the market during a downturn?
Most definitely. We came into the market just around the time the Airbus H225 was grounded indefinitely. No one knew whether the model would be grounded for a week, a month, a year, five years. This was the catalyst that got us out into the market
Lessors, end users, owners and manufacturers saw a very cost-effective quick fix to preserve their H225s while the aircraft was investigated for airworthiness.
One thing we realised about the market is that the person who owns the helicopter will not do anything to it that is not mentioned in the manual. So we got Airbus and GE (the engine manufacturer) on board to give us the go-ahead for our product.
Once they saw our procedure and they gave us the go-ahead, that was a big leap forward.
We had wrapped aircraft engines before, so it was natural to expand out to full aircraft. When we got the Airbus and GE go-ahead, every user of the H225 came to us. We went all over the world with our on-site team and wrapped the helicopters for them and then taught their people how to do it.
Once we did this, the customers came back and asked us for protective packaging kit for their other grounded helicopters. As a result, we designed a kit for every model helicopter there is flying right now.
Any model of helicopter that someone would have, we would be able to send over a kit. The kit has everything you need to protect the helicopter long-term, including pre-cut custom-made material for that model.
Are we seeing more helicopters taken out of storage and flying in 2017/2018 as opposed to 2016?
It appears that the oil industry is improving with the price of oil increasing. We feel that, as the offshore rigs begin coming back on line, the requirement for helicopter service to these rigs will increase. And, as everyone regains their faith in the H225, we feel most of these models will be put back in service.
What trends are you noticing right now?
We are finding that, due to the very economical cost of our preservation methods, users are turning to our application even if their aircraft is going to be down for a limited time.
Our procedure does not require a pilot, restarting engines, draining tanks, daily and weekly continuing maintenance checks, fluid changes/checks, etc, etc. These and other checks are required if the user cannot control the atmosphere around the aircraft, which our cover does. We are told that the operators can save thousands of dollars in preventive maintenance expenses in a very short period of time.
What is your biggest customer base right now?
The end user is our biggest customer, along with the leasing agents that want to protect their asset. Lessors will approach the end user and ask them to come to us to keep their aircraft protected.
At the Helicopter Investor conference, we see a cross section of everybody, the lessors, users, and the manufacturers so it's such a fantastic opportunity to meet these people and show off our product.
What models are you wrapping?
It is still a combination of the EC225s, S-92, S-76, AW139, B212, EC145, A109, EC135, BK117, etc.
Steve Hanna will be speaking about the state of the helicopter storage market at the upcoming Helicopter Investor 2018 conference in London on the 1st of February. To find out more about the conference, click here.