AgustaWestland Philadelphia delivers its 200th AW139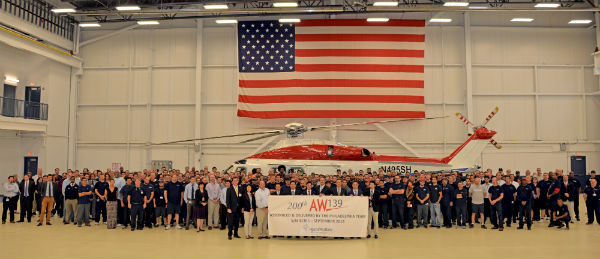 AgustaWestland has assembled its its 200th AW139 helicopter in Philadelphia and has delivered the aircraft to Mitsui Bussan Aerospace and the City of Yokohama.
The Philadelphia facility began building the Aw139 in December 2006 with production at the site at nearly 40 deliveries per year.
ALSO READ: AgustaWestland sells another VIP AW139 in North America

Orders for nearly 800 AW139s have been placed by more than 210 customers in over 70 nations to date.
The AW139 is popular in Japan, with aircraft in service with the Japan Coast Guard, Japan National Police Agency, Tokyo Metropolitan Police and Fire and Disaster Management Agency, as well as several prefectures and city agencies.
AgustaWestland Philadelphia produced a short video
http://youtu.be/7gSdO1PY9us